When you've enjoyed living in your home for several years, carpet replacement in Blue Springs is a home improvement project that Kansas City Flooring Pros is eager to assist you with. Admire your living spaces again with our expert installations, affordable prices, and high-quality products coming straight from the manufacturer.
Kansas City Flooring Pros is the preferred choice for carpet replacement. We've been providing customers with superior carpet installations for years, and there's no project that we don't give our undivided attention to. From the very first point of contact through the final step, everyone gets the same respect and dedication, no matter what size the job is.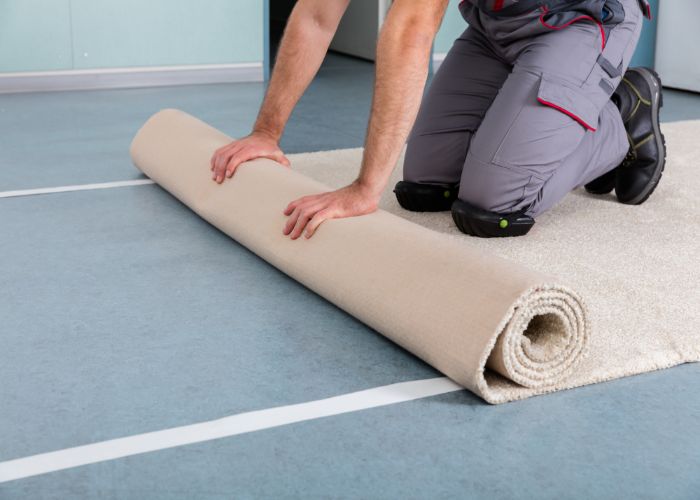 FREE, in-home consultations are the most common way that we meet with clients, because it gives us a better understanding of the room the carpet installation is going to be in, and the decor style that the client generally wants to coordinate with. Our design team is extremely creative, and we're capable of providing everyone with not just one choice, but several options to choose from without overwhelming them.
We received a call from a frantic homeowner who had some renovations completed in their home by another contractor. In the process of their remodel, their carpet had been completely destroyed. They weren't too upset about it, because they knew that the flooring they had was old and needed to be replaced. What they wanted was a fast carpet replacement in Blue Springs, because they had scheduled a family event for that very weekend. They assumed the carpet could wait until after the party, but looking around, it was clear it was only going to be a distraction from the work they had already paid for.
Kansas City Flooring Pros sprung into action and went over the very same day to get an exact order for what they wanted and needed for the room that was getting new carpet. Even though we had a full schedule, we knew how critical it was for them to get this service done within the next day or two. We squeezed them in and assigned a few extra flooring specialists to their job to get it done quicker. With our human resources and the fast delivery of their materials directly from the manufacturer, everything was finished within the time they had told us they had to get the new carpet put in. Our flooring technicians installed the flooring exactly how it's supposed to be, and we cleaned up every spec of the evidence that we were ever there. The client contacted us after the gathering and told us how thankful they were and how they were going to recommend us to all their friends for flooring services in Blue Springs.