Kansas City Flooring Pros is a flooring company in Kansas City that has been in business for many years. Through our experience, we've discovered the highest-quality products available for ceramic tile installation in Kansas City. Our expert flooring contractors are trained extensively in following the proper methods to ensure a flawless installation that lasts for many years. We're so confident in our abilities that we cover all of our work with a 100% satisfaction GUARANTEE.
Ceramic tile installation in Kansas City isn't an easy home improvement project, and as professionals, we recommend that nobody ever tries to handle something this complex on their own.
After visiting one home several years ago, we believed that the job that was in front of us for ceramic tile installation was going to be something that we've tackled hundreds of times before. We did the initial FREE consultation and scheduled an appointment to have the installation done a few days later. Our flooring contractors showed up with all the materials and equipment required to do the job, and we began ripping out the existing ceramic tile. Much to our surprise, and to the shock of the customer, there was mold growing behind the old surfaces. It's not something we see often, but it happens.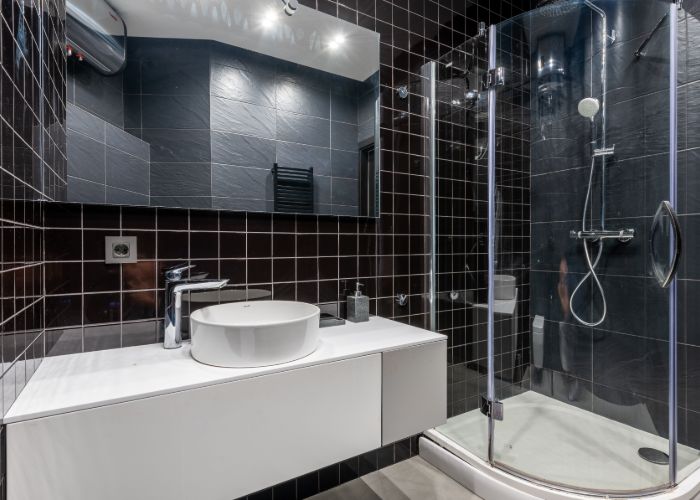 We know that you can't simply cover up the mold and hope that it goes away. The mold remediation company had to come up and clear up the problem, and that was going to take a few days to get done. Our client wasn't happy about the discovery, but we reassured them that we would get their ceramic tile installation in Kansas City arranged. It was more important to make sure that it was done correctly, so they weren't stuck ripping out their brand new tiles to deal with the mold issue later on.
Our crew cleaned up everything that day while the homeowner got on the phone with a mold expert to take care of problem number one. We coordinated with them and had their ceramic tile installation scheduled to be completed the day after their problem was eliminated. The job took a little longer than we thought, but we're an extremely flexible company, and we know things happen. In the end, the customer was delighted and completely satisfied that everything was handled to the specifications necessary to ensure the perfect finish for the bathroom we were working in.
Ceramic tile installation in Kansas City completed by the flooring specialists from Kansas City Flooring Pros is guaranteed to give you the long-lasting, durable finish you're looking for in your kitchen or bathroom. When investing in home improvements, our experts have the superior choices you're searching for at affordable prices.