Our flooring company wants you to know that the hardwood flooring installation in Kansas City that you've always wanted isn't out of your reach. Many of the customers that contact us are excited about getting new flooring, and we carefully go over all the options we have available. When we get to the hardwood flooring products we offer, they will usually start to cut us off, telling us that there's no way they can afford it. Our professionals want every homeowner to have the property of their dreams. That's why we have a vast selection of materials that are suitable for any budget.
A few years ago, we had a customer call us and tell us that they had a bit of a flooring emergency. They had started doing their own hardwood flooring installation, but when they got halfway through, they realized it didn't look anything like what they wanted. Now they had just a few days to get the floor in because they had guests coming for a graduation party that weekend. The woman on the phone was frantic for our help. After we calmed her down a bit and reassured her we would do everything we could, we sent a flooring contractor over to see what was going on.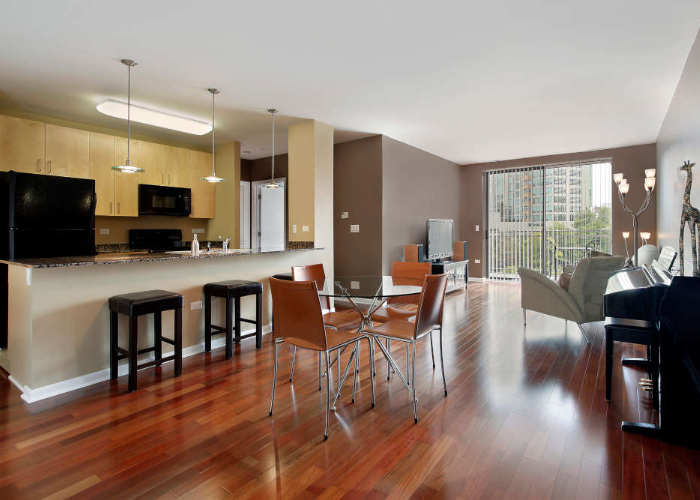 It was a rookie mistake, as we like to call it in the flooring industry. She and her husband had the right idea, but they weren't following the proper design methods. The slats of wood they had were too big for the room, and they weren't organizing them correctly. It was clear that the floor needed a complete overhauling, and we got right to work.
Within a few hours, we had their floors looking exactly the way they had envisioned from the start, and they couldn't stop thanking us for assisting them so quickly. They were so satisfied with the polished results we gave them that they scheduled our crew to come back and do a few more rooms for them after the party was over.
It just goes to show you that hardwood floor installation isn't a DIY job. It might seem simple enough until you get into all the details. Call Kansas City Flooring Pros first, and you'll avoid the hassle and headache of having to start all over from scratch. Our prices are reasonable, and everything is 100% GUARANTEED. You really can't go wrong.
If you've always dreamed of having charming hardwood flooring installation, then the Kansas City Flooring Pros are who you need. We have several years of experience in doing hardwood flooring in Overland Park and the surrounding areas. We will come up with a cost-effective solution to match your ideas!