If you've recently searched online for how to "make my hardwood floors look like new without refinishing," you're certainly not alone! Hardwood floors are tough and durable and designed to take a beating, but everyday wear and tear as well as spills and other such damage can ruin even the most stunning hardwood.
To make hardwood floors look like new without refinishing:
Try buffing and polishing with a commercial-grade buffer
Use a hardwood floor polishing sealant
Clean markers with toothpaste and a clean cloth
Apply a wood floor cleaner or oil soap for a high-gloss clean
Hardwood floors can easily last for decades before needing replacing, but how you maintain them throughout the years affects their lifespan and appearance. While refinishing is the best option for removing extensive scratches and other such damage, and also creates a fresh base ready for a new paint or stain color, a homeowner can keep their hardwood floors looking like new with the right care and maintenance as well.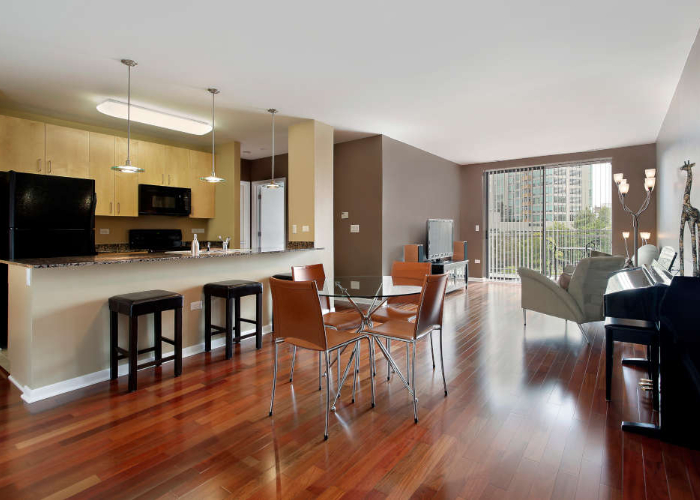 To ensure your home's hardwood floors are always in good condition and looking their best, consider a few tips for keeping them polished and pristine in between refinishing visits. You can also discuss more options with a hardwood floor refinishing contractor near you, and know that those beautiful wood floors will look stunning for years to come.
How to Make Hardwood Floors Look Like New Without Refinishing
Dull and dingy hardwood floors often just need a bit of "touching up" rather than full-scale refinishing to restore their luster and shine. To make your hardwood floors look like new without refinishing, consider a few suggestions as well as some tips on keeping wood flooring looking its best throughout the years.
First, avoid mopping wood floors with a damp mop. As water dries, it tends to leave behind stains and marks that create a dull, dingy look. Use only a dry dust mop with soft microfibers  to remove dirt and dust.
Never use ordinary floor cleaners meant for tile and stone on wood floors, even for tough stains. Floor cleaners often strip wood floors of their protective coatings, creating a dull look.
Remove permanent markers, food stains, and other discoloration with a dab of toothpaste on a dry cloth. Rub the toothpaste in a circular motion and then use another clean cloth to remove it. Toothpaste offers a gentle cleaning that won't strip wood floors or dull their appearance.
For everyday cleaning, use an oil soap; dilute according to package directions and apply lightly to wood floors. Rinse with a clean, damp mop and then use another mop or towel to dry the floors completely. Oil soap moisturizes wood as you work and won't dry it out as does water or a tile floor cleaner.
Blot water spills immediately! As wood absorbs water it then fades or discolors, creating an unsightly mark or stain. Water also strips wood sealants and coatings.
If your wood floor has a penetrating finish such as tung oil, you'll want to add a wax coating rather than buffing or polishing. If you're not sure if the floors have a penetrating finish, choose an inconspicuous spot and scrape up a bit of the wood surface with a sharp knife. If the area gets smudged but no clear material comes up onto the knife, the floors probably have a penetrating finish.
To add polish, first clean the floor thoroughly and ensure it's dry. Next, add a small bit of wood floor polish in an S shape along a corner of the room. Use a flat-surface mop meant for wood floor polishing and gently spread the polish along the length of the room, working with the wood grain.
When applying polish, start with thin layers and allow them to dry before deciding if you need another coat. It's also good to wait a full day before applying a second coat, as sometimes polish looks better and brighter once it's set and dry!
Buffing works like refinishing however, rather than removing a thin layer of wood to prepare it for a fresh coat of paint and sealant, buffing removes slight scratches and materials that might dull wood floors. Homeowners can typically rent buffing machines at home improvement or hardware stores.
Do Those Hardwood Floors Need Refinishing?
While proper cleaning and polishing can give wood floors a bright, fresh appearance, hardwood does need refinishing on occasion. Refinishing involves sanding away a thin top layer of the wood and then applying fresh paint or stain and a sealant coat. That sanding process removes nicks, scratches, minor dents, stains, and other imperfections not easily addressed by polishing, cleaning, or buffing.
Refinishing is sometimes a costly investment for homeowners; as it does remove that small top layer of wood, you can also refinish those floors only so many times before you've removed so much wood that they then need replacing! Since you don't want to refinish wood floors more often than necessary, how do you know when it's time to schedule this work for your home?
If you've tried to remove water or food stains with standard cleaning or buffing, consider refinishing. Sanding typically pulls up that damaged wood area, or you can then cover over the stains with a new paint color. You might also consider refinishing if you're just tired of the floor's color and can't achieve the look you want with buffing or polishing!
Buffing and liquid polishes also remove or fill in small scratches and nicks along wood floor surfaces but can't always correct deep or larger scratches. Buffing also doesn't always polish away dents, or remove damaged sealant and fading paint! To correct severely damaged floors, consider refinishing.
How to Protect Hardwood Floors From Damage
One of the best ways to keep your home's beautiful hardwood floors looking their best is to protect them from damage in the first place! Before you search online for how to "make my hardwood floors look like new without refinishing," consider some pro tips for avoiding damage and anything that might dull a hardwood floor's shine.
One vital tip for homeowners is to keep floors as clean as possible; dirt, dust, and other debris get ground into even the densest wood every time you walk over those floors, creating a dull look. Sweep the floors or use a dust mop every day and invest in a quality air purifier or filter if needed, to remove airborne dirt and other irritants.
Since deep scratches are difficult to remove without refinishing, avoid rough sisal area rugs or scratchy area rug backings. Invest in softer jute or cotton rugs and choose gentle nonslip backings as needed. Attach soft cork or felt stoppers under furniture legs, to keep them from scratching floors every time they're moved.
Homeowners should also note that some materials stain wood floors very quickly, and there's very little you can do to remove those stains! These materials include nail polish remover, paint and varnish, paint strippers, and oily materials including cooking oil and other such greases. Keep these materials away from interior rooms with wood floors to reduce the risk of damaging stains and discoloration needing refinishing.
Choosing the Best Hardwood Floors for Your Home
Homeowners today have more choices for hardwood floor varieties than ever before! Those choices include exotic species such as teak and bamboo, soft cork, and traditional oak, pine, and cherry. With so many options, how do you find the right one for your home?
First consider that darker colors tend to hide scratches and other marks more readily than lighter colors. If you have children or pets or know your floors will undergo lots of wear and tear for any reason, choose a darker species of wood such as cherry. You might also choose an inexpensive pine or oak and have it painted a dark color.
Denser wood like teak are also less likely to suffer scratches and dents, but they're also harder to sand down and refinish. For an eco-friendly option, choose bamboo, as this grass species grows quite quickly. You might also choose a wood manufacturer who sources their material from a dedicated forest, meaning a forest set aside for wood construction harvesting alone.
Related Questions
How many times can you refinish hardwood floors?
Refinishing removes a slight layer of wood from floorboards, as said; because of this process, you can only refinish floors so many times before there is simply no more wood to sand down, or the boards become so thin that they're likely to crack. Engineered wood floors might withstand refinishing once or twice, while you can usually refinish genuine hardwood four to six times.
How often do wood floors need refinishing?
Most wood floors need refinishing every 7 to 10 years. However, the way you maintain those floors over the years will affect their lifespan and condition. Do all you can to make hardwood floors look like new without refinishing so you can avoid this process as much as possible in your home!