The design specialists at Kansas City Flooring Pros know all there is to know about laminate flooring installation. If you're considering revamping your living space, we want to go over all the selections we have for laminate flooring installation in Shawnee today. Start enjoying your new look the same day!
Laminate flooring installation in Shawnee is a home improvement project that should always be taken care of by professionals. The experts from The Kansas City Flooring Pros have been doing laminate flooring installations of all shapes and sizes for many years. Over the course of time that we've been in this industry, we've learned and developed the most efficient and cost-effective solutions for this type of work. In most instances, our customers can put their furniture back and start enjoying the benefits of their new flooring material the very same day it's put in. It's a more affordable and convenient option when you need something done, and you need it done fast.
A single mother called us recently, in a bit of a panic over the condition of her floors. She had three small children at home, and even though she was trying to do it all, the appearance of her house was starting to suffer. She had saved up some money, and she was excited about the possibility of having some work done on the property she so proudly bought on her own. We went over a few ideas with her, and then discussed her budget. It was apparent that hardwood flooring wasn't going to be suitable, but we explained how we could create the same look for a fraction of the cost. She was delighted with the design team's work, personal attention, and the laminate selections made available to her.
Then she told us that she couldn't see how she could keep her kids busy and out of the area that we had to work in for very long. We said, "That's the beauty of the whole thing!" With the superior and versatile products we use, we were able to put her new laminate right over the existing floor. There was no tear-out of carpet needed, so that saved her time and money on hourly labor costs. The "floating floor" was done in just a few hours, and it was ready to use before her children got home from school that day!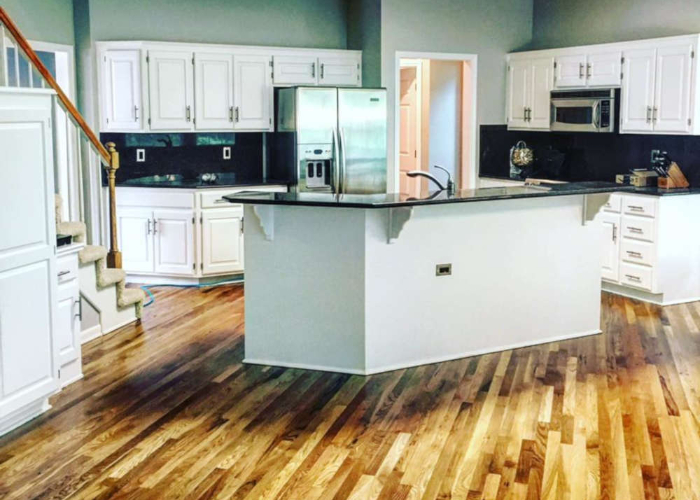 After a few weeks, she called us back to tell us how satisfied she was with the look and the fact that we didn't have to use any potentially dangerous chemicals or sealants that she didn't want around her babies. It just goes to show that with Kansas City Flooring Pros, there really are laminate flooring installation options for everyone!