Are you searching for kitchen remodel ideas for a Kansas City home? An updated kitchen is an excellent way of improving the function and style of the space, while adding value to your home! Since a home's kitchen is often the one room that everyone in the family uses every day, updating the space also ensures it works for everyone in the home.
Before you start your Kansas City kitchen remodel, you might note some of today's hottest trends for kitchens and adjoining spaces. Discuss these with your kitchen renovation contractor so you know you'll end up with a kitchen space you'll love for years to come.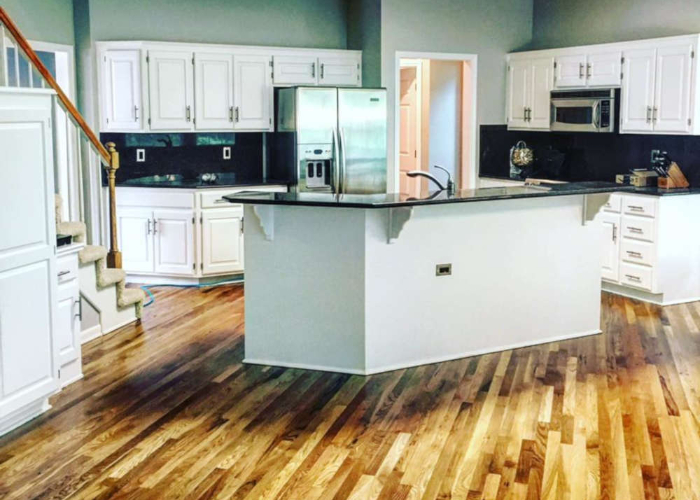 Color and 2021 Kitchen Remodel Ideas for Kansas City Homes
Don't stock up on white or eggshell paint just yet! Today's hottest trends in kitchen design for Kansas City homes include adding bold touches of color that are still sleek and stylish. Two-tone cabinetry is an excellent choice for any home; this means painting the lower cabinets a darker color than upper cabinetry, to break up the look of your paint colors and add lots of visual interest.
Sleek gray tones are also hot this year, adding a bit of sophistication without making a kitchen seem dark and dull. Gray is also a welcome change from traditional earth tones or overly bright white, so consider gray cabinetry for your home's new kitchen space. If you must have white cabinets, opt for a gray countertop or backsplash instead.
Stick With Open Kitchen Designs for Kansas City Homes in 2021
An open kitchen design in Kansas City is still popular, but today's designs help keep a kitchen spacious and airy in more ways than you might imagine! One great option for homes today is a table-like center island. Rather than a solid cabinet, this island style more resembles a tall table. With bar stools rather than actual chairs, this keeps the kitchen open and less cluttered. Updating flooring is always a hit, hardwood flooring is a great choice.
Homeowners today are also choosing carefully the number of cabinets needed in a kitchen. Open shelves in place of some cabinets is still a popular trend that keeps a kitchen from seeming crowded and claustrophobic, but you might also just remove an upper cabinet or two, if possible. Add more shelves in the pantry for holding smaller items such as spice jars, and you might not need all that cabinetry in the space.
Refrigerators Make a Huge Splash in Kitchen Design in Kansas City
Refrigerators might be the most important appliance to consider in a 2021 kitchen design for Kansas City homes. Today's refrigerators offer far more features than ever before, including zone cooling that allows you to set different areas inside the refrigerator to different temperatures. High-tech features also include reminders of when you're running low on certain foods and when foods inside are nearing their expiration date!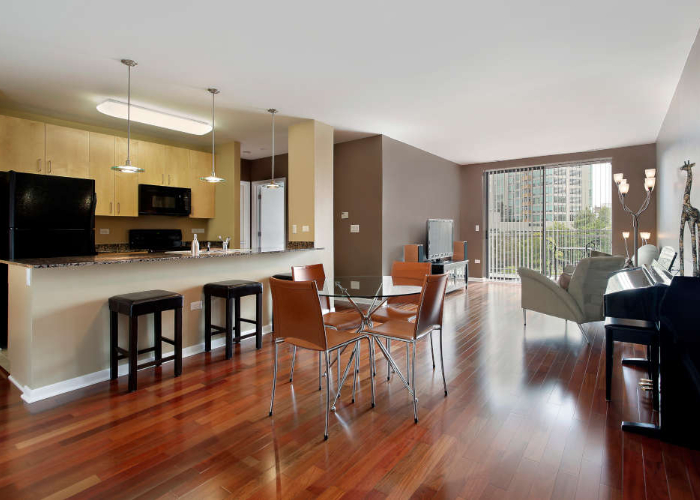 Even basic refrigerators are undergoing a change to suit updated kitchen designs for Kansas City homes. Your renovation plans might include a recessed refrigerator, surrounded by built-in cabinetry, rather than an appliance that "juts out" into the space. This recessed design offers a streamlined look while those new cabinets also keep foodstuffs, storage dishes and wraps, and other items close at hand and very accessible!
Storage for Multi-Cookers Is Hot for Kitchen Remodel Ideas in Kansas City
Many people today are trying to eat as healthy as possible, which means cooking with less saturated fat and eating more meatless and fresh dishes. In turn, kitchens are often overrun with multi-cookers or small appliances that help create tasty dishes everyone loves! This includes rice cookers for when you want a meatless meal, slow cookers that allow you to make a variety of healthy soups and stews from scratch, and steam-based appliances that allow you to cook almost anything you once fried with healthy steam.
Because all these small appliances can create a cluttered look on the countertop, and appliance garages might seem busy and cluttered, today's kitchen remodel ideas for 2021 in Kansas City include easier storage options. This might include expanding the pantry to make room for long, deep shelves perfect for small appliances, or built-in shelving along one wall that keeps the space open yet out of the way of foot traffic.
Upscale Yet Earthy for a 2021 Kitchen Remodel in Kansas City
Homeowners often have a hard time deciding between a sleek, upscale design for their kitchen or one that's traditional, warm, and somewhat earthy. Fortunately, today's kitchen designs in Kansas City allow you to have both!
To create a stylish yet welcoming design, tone down the details in both these styles so they combine a bit more easily. For instance, if you love warm brown wood, choose a Shaker style cabinet which offers a flat, square front. Opt for granite, limestone, or quartz countertops without a lot of graining or speckling.
Glass cabinet fronts also offer both an upscale and earthy look for kitchens! Swap out one or two cabinet fronts for plain glass, to create a sleek look that keeps the kitchen open and welcoming. Oil-rubbed bronze hardware and lighting fixtures also offer a stylish yet warm touch for your kitchen space.
Minimalism Is In for Kansas City Kitchen Remodels
Gone are the days when kitchens offered a grand look, with lots of details and features in every corner and along every surface. Today's Kansas City kitchen designs embrace minimalism, without sacrificing comfort and style. Sleek, plain cabinet doors, dressed up with stylish hardware offer a simple look many homeowners love, as do plain metal or glass backsplashes rather than busy tile.
Homeowners are also swapping out shelves normally reserved for cookbooks for spaces where they can keep plants and other decorative items. As you can easily find recipes online, cookbooks today often seem cluttered and busy while plants offer a cozy yet simple, minimalist look. Health conscious homeowners also love growing a few vegetables and fresh spices right in their kitchen as well!
When incorporating a minimalist look into your kitchen remodel ideas for 2021 in Kansas City, remember to keep things welcoming and warm. Use a few darker tones to offset those clean lines, so your space doesn't seem bare and stark. This will ensure you and your guests love spending time in your new kitchen for years to come!