Not all residential carpeting is the same, which is why homeowners would do well to take their time and shop various carpet materials, pile height, and padding before deciding on flooring for their home. Investing in durable residential carpets designed for high-traffic areas ensures they last for years while resisting stains, discoloration, and worn areas.
The best residential carpeting for high traffic areas include nylon and polyester, which are also excellent choices for areas prone to food stains and water spills. Wool home carpeting also stands up well to heavy foot traffic while offering a soft, natural feeling underfoot.
As every home and family are different in their needs for residential carpeting, it might be beneficial to learn a bit more about various carpet details. You can then discuss your needs with a carpeting installation contractor near you.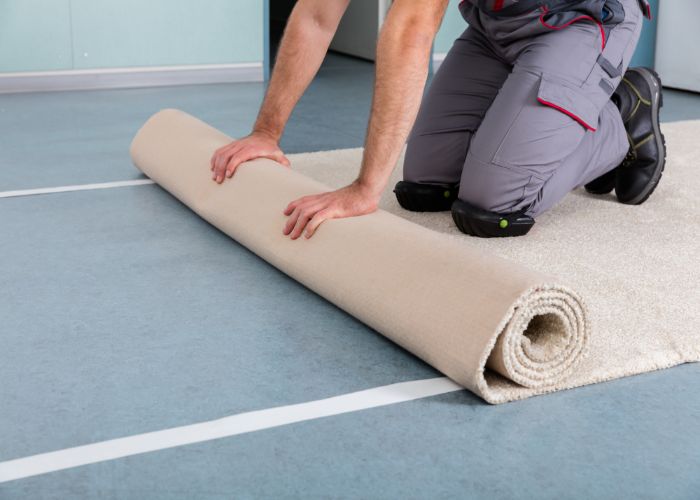 You might also note some reasons why many homeowners choose hardwood flooring versus carpeting, and why carpets are still preferred in certain rooms even with wood floors in other areas. Knowing all your options for new flooring before you make a decision ensures you'll be happy with your new floors for many years to come!
The Best Residential Carpeting for High Traffic Areas
The best residential carpeting for high traffic areas in your home means flooring that's more than just durable; every room in your house should have beautiful, attractive flooring that's easy to clean and which lasts for years! It's also vital that you choose something comfortable underfoot and that works well with your home's overall décor and style. Note a few vital differences between residential carpet options so you can choose the right material and style for your house.
Nylon and polyester are both very durable and, like nylon jackets or polyester clothes, both materials resist water, food and other stains, and discoloration.
Wool is a strong and durable material that holds up against tugging and tearing. Wool is also soft underfoot and helps hold warmth in a room.
Triexta and olefin are both similar to nylon and polyester but typically more affordable overall.
Pile height or the height of fibers affects carpet durability. High fibers tend to hold lots of dust and debris and might get pulled and tugged more readily than low pile carpets; you might even notice that many commercial buildings choose low pile or "flat" carpeting, for this very reason.
While lower pile carpeting offers more durability, note that it also tends to feel flatter and less comfortable underfoot. The higher the pile, the more cushioning and comfort as well as sound absorption.
The amount of yarn that makes up carpet fibers is called its face weight. As with linens and other fabrics, a higher face weight means a thicker, plusher carpet that offers more comfort underfoot. While higher face weight carpets tend to be more expensive, that added yarn or thickness also means less chance of a worn, threadbare look in high-traffic areas.
Texture or twisted carpet features twisted pieces of yarn that create carpeting fibers. Twisted yarn is less likely to get tugged and pulled and look flattened or worn over time.
Berber or loop carpet features uncut loops of yarn sewn onto carpet backing. Uncut yarn is tough and durable and not likely to shred, except when exposed to sharp claws! Berber is a favorite choice for high-traffic areas, stairways, and other similar spaces, but exercise caution in choosing loop carpet if you have pets with sharp claws or nails.
Pattern carpet features both loop and twisted yarns; as these yarns offer different surface appearances, combining the two creates what appears to be a pattern. Patterned carpets hide a wealth of dirt and dust while still offering a sophisticated appearance.
Carpet padding with moisture barriers also keep residential flooring in good condition, repelling water rather than absorbing it.
How to Choose Residential Carpeting
Now that you know a bit more about carpet materials and its overall design, you might consider a few added suggestions for choosing the best rugs for your home. Remember to discuss your options with a flooring contractor near you as he or she might offer some personalized suggestions and ideas, and consider that the cheapest carpeting might also be the least durable and more likely to show impressions, footprints, stains, and discoloration.
When choosing carpet pile height, consider comfort, appearance, ease of cleaning. High pile carpeting offers a soft feeling underfoot and absorbs the most noise, but also holds the most dust, dirt, and other debris! High pile carpeting might also show footprints and other indentations rather easily.
Low pile carpeting might seem a bit industrial and provides the least amount of comfort underfoot; however, the lower the pile, the less dust and dirt! Consider a low pile carpeting for very heavily trafficked areas where durability is vital, such as a staircase or child's playroom.
Dark carpets, busy patterns, and low pile hide dirt, footprints, stains, and other imperfections and signs of wear better than light colors and high pile. Consider a multi-color design and low pile carpet for a family room, dining room, or other space where food spills and similar accidents are more likely!
Remember that dark carpet holds heat just as any other dark surface in the home. For houses in tropical areas or rooms without adequate ventilation that tend to feel stuffy and warm during summer months, opt for a low pile, light color carpet.
How Often Should You Purchase New Residential Carpeting?
Most carpets will have an expected lifespan, meaning that their fibers and underlying backing simply wear away and need replacing after so many years. Typically, a homeowner might shop for new residential carpeting every seven to ten years at the most.
Your everyday habits also affect the lifespan of a home's carpets. If you have young children, pets and especially large dogs or older animals who might have frequent "accidents," entertain often, or live near a busy roadway, airport, or production facility, your home's carpeting probably suffers lots of added wear and tear. Rather than following a particular schedule, opt for new residential carpeting installation every few years or as often as needed to keep your home clean and pristine and looking its best.
Should You Choose Residential Carpeting or Hardwood Flooring?
There is no right or wrong choice for residential flooring, as the best option for your home is whatever offers the look you want at a price you can afford, and which stands up to your family's everyday use. As each flooring option has its own pros and cons, you might simply note some differences between residential carpeting and a hardwood floor installation, and then decide the best choice for your home.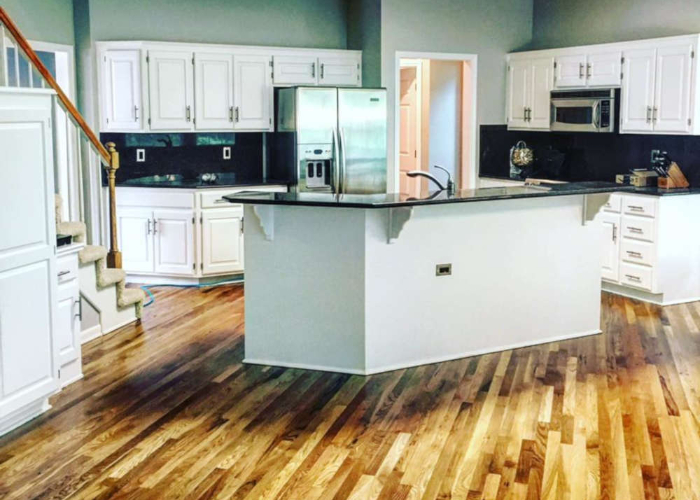 Hardwood flooring is easier to clean than residential carpeting; typically a lightweight dust mop is all that's needed to remove dust and other debris and keep hardwoods looking their best. This is an especially important consideration for homes with upper stories, as lugging a heavy vacuum cleaner up and down stairs is often cumbersome and tiring.
Carpet fibers tend to trap and hold lots of dust and bothersome debris, including pet and human hair, dander, cigarette smoke residues and ash, air pollution residues, airborne chemicals such as from household cleaners, pollen, and dust. Everyday vacuuming is often insufficient for removing these residues thoroughly.
Residential carpets often show worn or matted areas after some time; you might even notice flattened areas where doors open and close or along trafficked areas between rooms. After some time, these areas become so worn that everyday vacuuming won't restore their original nap.
Sanding hardwood floors allows you to change its overall color and tone; you might give a dark cherry wood floor a whitewash for a fresh, light look, or paint oak floors a deep mahogany for something elegant and upscale.
One advantage of carpeting is that it's somewhat softer and more comfortable underfoot and also absorbs noise. Many homeowners choose carpeting for bedrooms and children's rooms especially, so kids can play on the floor in comfort and the space is quieter when it's time to sleep!
Some homeowners might feel that hardwood floors are a bit stark and sterile especially when compared to carpet's soft look and feel. This impression might be especially true if you own lots of wood rather than upholstered furniture or if your home has a modern style, with minimal décor and glass and metal accents.
Related Questions
What are carpet tiles?
As the name implies, carpet tiles are a foot or eighteen square inches of carpet, typically with a peel-and-stick backing and attached padding. While often not as soft and durable as wall-to-wall carpeting, carpet tiles offer an easy installation process and, as each tile is replaceable, they make a great option for rooms where stains are inevitable such as a child's playroom or mudroom.
Is thicker carpet padding always the best option?
Thick carpet padding often provides added softness underfoot and increased sound insulation, but don't assume the thickest padding is the best! Overly thick padding is not the right option for those who need steadier footing and padding too thick often wears down Berber carpeting. Check your residential carpeting manufacturer recommendations for padding thickness and choose accordingly.