Solid oak hardwood flooring is an excellent option for any home, as wood floors offer an elegance and style not easily duplicated with carpeting, tile, and other such choices. Real oak floors can also be painted or stained, allowing you to change their appearance over the years.
Solid oak hardwood flooring allows for more sanding and refinishing than engineered floors, making them a better long-term investment. However, engineered flooring installation is often more affordable, allowing homeowners on a budget to have a stunning wood floor they love!
To help you make the best decision for your home's flooring, you might note some vital details about hardwood and engineered floors, including their various differences. It's also helpful to note some pros and cons of wood flooring in general, and why you might opt for carpet or tile in some rooms of your home even with a hardwood installation.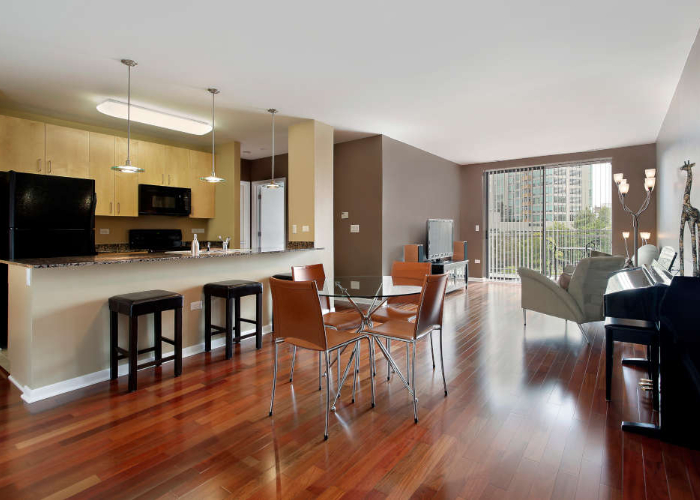 Once you do decide on hardwood versus engineered floors, it's also helpful to review a few tips for choosing the best flooring contractors in your city, as well as tips for ensuring those floors stay gorgeous through the years! This information ensures that you'll be happy with your decision and will love your wood floors as long as possible.
What Is the Difference Between Engineered and Solid Oak Hardwood Flooring?
Note some differences between engineered and solid wood floors, along with the pros and cons of each. Be sure to discuss any other questions you have about these options with a flooring contractor in your city so you know you choose the right floors for your home!
Solid hardwood floors consist of a solid plank of your chosen wood species, whether that's oak, maple, cherry, and the like. These planks are then glued, nailed, or otherwise fastened to the home's subflooring.
Engineered wood floors consist of a thin strip of your chosen wood species, glued to a plywood backing.
Engineered wood flooring typically consist of a tongue-and-groove design; the planks snap together like puzzle pieces, floating over the home's subflooring. End pieces are then fastened to the subfloor, making installation quicker and easier than hardwood flooring.
Because solid hardwood floors require glue, nails, and other adhesives, installation is difficult and should only be handled by a professional, experienced flooring contractor!
Both solid oak hardwood and engineered flooring might be finished during the manufacturing process, or finished onsite.
A manufacturer's finish ensures consistency and allows you to walk on the floors as soon as they're installed.
Onsite finishing allows your flooring contractor to match a finish to other surfaces in the home, offering a custom, cohesive look.
Both solid wood and engineered floors need sanding and refinishing over the years, to remove nicks and scratches and ensure they're sealed and protected from damage. Sanding and refinishing also allows you to change the look of those floors as needed.
Because engineered wood floors consist of a thin strip of wood, they typically can be sanded and refinished only once or twice before they then need replacing. Solid oak hardwood allows for several sanding and refinishing processes, so they need replacing far less often than engineered floors.
While it might be tempting to choose engineered floors because of their affordability and easy installation, keep in mind your long-term costs when making your decision. Having to replace those floors every few years can be more expensive than investing in solid floors that last for several more years if not decades.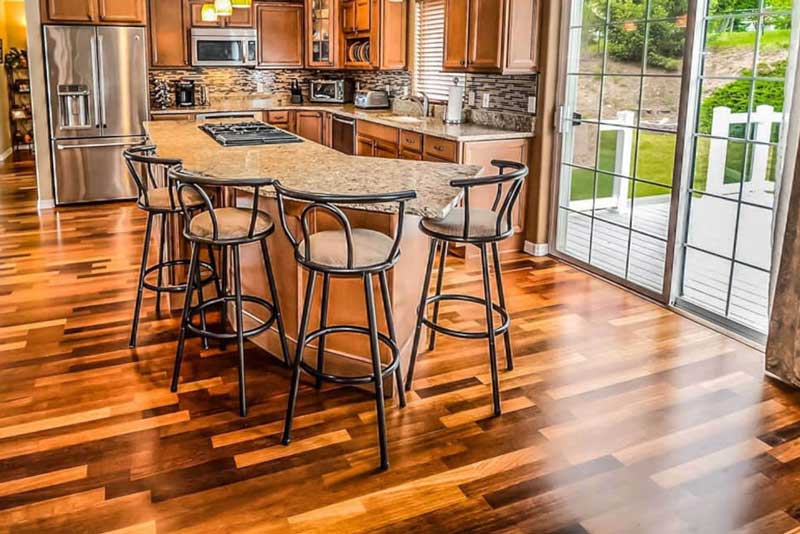 In some cases, solid oak hardwood flooring might also be more valuable to potential homebuyers than engineered floors, as buyers know that solid floors last far longer. While you might not be putting your home on the market anytime soon, keep that point in mind if there is any chance that you might sell in the future! Investing in solid planks now can mean durable floors with years of life left in them when you are ready to call a real estate agent.
Is Solid Oak Hardwood Flooring a Good Investment?
Since wood floors are sometimes a costly investment, it's helpful to consider their pros and cons so you know if they're the right choice for your home. One definite advantage of wood flooring is its durability and cleanliness. Wood floors don't trap and lock dust and dirt as do carpet fibers, don't show tread marks and footprints, and don't require a heavy, cumbersome vacuum cleaner! While you might notice some eventual scratches in wood floors, they typically remain durable and in good condition for far longer than carpet and only require a light dust mop for cleaning.
Because wood floors don't hold as much dust and dirt, they're an excellent choice for anyone with breathing disorders, allergies, and other such health concerns. Indoor air quality is typically better in a home with hardwoods than with carpeting, and it's often easier for a home air purification system to collect dust, dust mites, pollen, and other such allergens when they're not trapped in carpet fibers!
Being able to sand and refinish wood floors is also a definite "plus" for many homeowners, especially those who tend to change a home's interior décor regularly over the years. You might start with a light, honey-toned oak floor to match your casual décor, and then give them a whitewash when you want an even lighter, beach-inspired or a very modern look. You can then repaint them a dark mahogany or coffee tone for a rich and elegant look!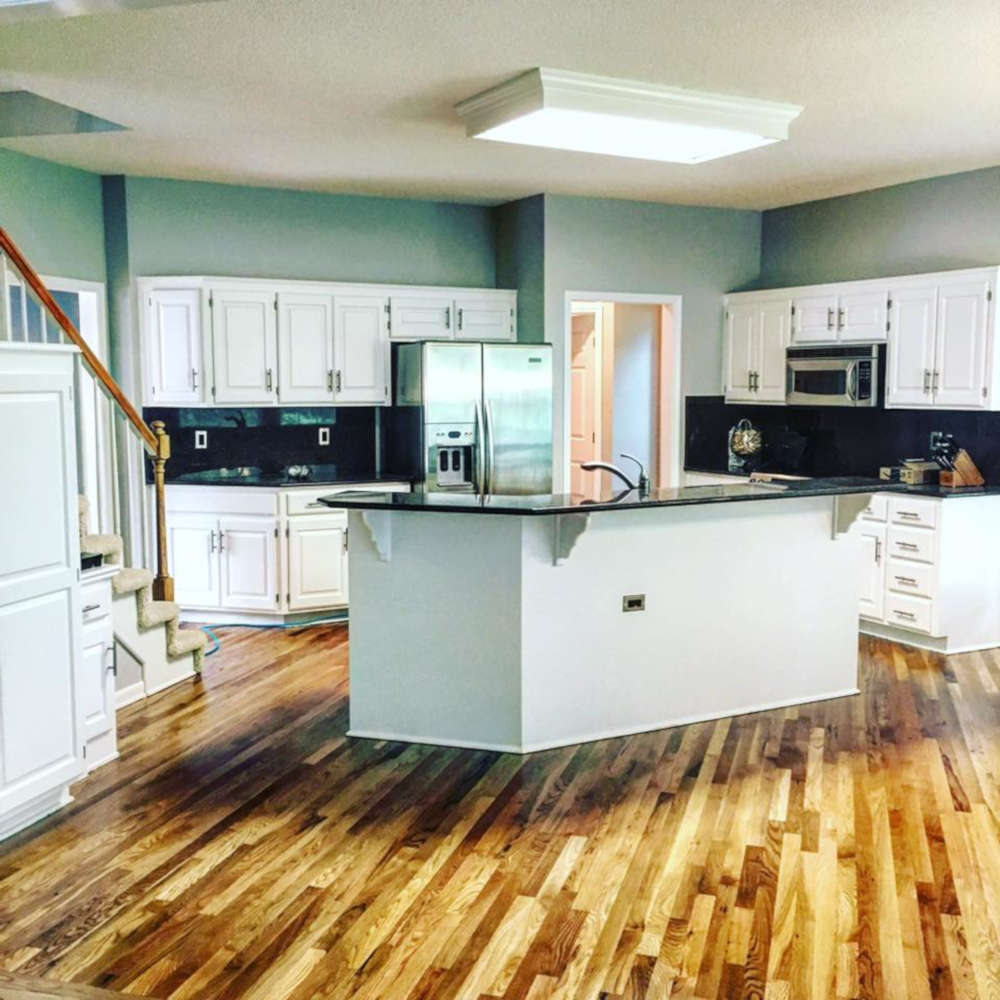 While the ability to sand and refinish those floors is a "plus" when you want to change their look, this is also one of the few downsides to solid oak hardwood floors. Over time, those floors will suffer nicks, scratches, and dents, and will need a fresh coat of sealant to keep them protected from water damage and drying. Consider a hardwood flooring contractor's price for this service when figuring your long-term flooring costs.
One last consideration about hardwood floors is that they might be less comfortable underfoot and don't offer the same noise insulation as carpeting. However, a few area rugs can offer some softness and absorb sound waves, or you might consider hardwoods throughout most of your home but keep carpeting in the bedrooms and a child's play room. Wood floors also don't repel moisture as well as tile, so they're not typically recommended for kitchens, bathrooms, and laundry rooms.
How to Choose Solid Oak Hardwood Flooring Contractors in Your City
A homeowner should never assume that hardwood flooring installation is a DIY job, as even tongue-and-groove, snap together hardwood pieces are often more difficult to install than you might realize. Also, some floating floors advertise that they can be installed over the current flooring, even carpeting, but it's vital that a hardwood flooring contractor inspect those floors first and ensure they're in good condition before wood floor installation.
The first factor to consider is that a flooring contractor should specialize in hardwood installations. As these planks are often difficult to install, and no two homes are alike, your contractor should have years of experience in cutting pieces to fit each room, acclimating them to your home's interior climate, finished them as needed, and other such tasks. A general contractor or someone who specializes in carpet installation with a bit of hardwood experience on the side probably lacks the expertise needed for a quality installation.
A flooring contractor in your city should also offer a variety of wood species, plank sizes, and finish options. He or she might recommend certain styles and varieties that would fit your home's overall décor and that offer the ease of refinishing you prefer, but should never pressure you to choose the more expensive solid oak hardwood flooring you can't afford or the cheaper engineered floors that you don't want! A quality contractor provides their customers the flooring they want, not what they prefer to install or would choose for their own home!
Quick Tips for Maintaining Engineered and Solid Oak Hardwood Flooring
Now that you've chosen your new wood floors, how do you keep them looking as beautiful as they day they were installed? One vital tip is to avoid scratching those floors as much as possible; you might be tempted to keep your shoes on indoors when your home has wood flooring, but even soft sneakers can scratch and etch those floors! It's especially vital you don't let kids wear skates indoors, bring their bikes inside, and the like.
Even when treated and sealed, wood floors are still sensitive to excess humidity. Clean water spills on hardwood floors right away and use a dehumidifier in summer, as needed. If you tend to boil lots of water on the stovetop, take steamy showers, or otherwise create excess humidity in the home, vent those areas thoroughly.
As with excess humidity, you also want to protect your home's wood floors from excessive drying. Use sheers or blinds on windows that allow direct sunlight on those floors and use a humidifier in winter if necessary. Be cautious about placing space heaters on wood floors; if needed, place an area rug that is safe to use with space heaters under that appliance.
The best way to ensure your solid oak hardwood flooring is in good condition and protected over the years is to invest in regular sanding and sealing. A fresh sealant coat protects floors from dirt, dust, scratching, and changes in humidity, and provides a like-new appearance you're sure to love!